Remodeling Companies » Articles » 4141 Group warning
Ehud Marciano from Enterprise Renovation - Fraud ! Scam Alert !!!
We've been getting so many complaints about Ehud Marciano from "4141 Group" also known as E & M Builders or Enterprise Renovation in Houston TX, that we've decided to publish an official warning: Keep away from Ehud Marciano, the CEO of Enterprise Renovation (or 4141 Group).
Most complaints are about the bad quality of the job done by enterprise renovation, but some of them refer to the fact that it is simply impossible to trust them professionally. We also got some complains about credit card charge backs that Mr. Marciano has done to suppliers he used to work with. Here is one which we found on Facebook relating to one of Mr. Marciano's companies (E&M builders). Funny thing about that is that the average rating score for the company is 3 stars, accepted by 2 rankings- one is by one of Mr. Ehud Marciano's customers, and the other is by Ehud Marciano himself ! We took the liberty to quote the review on Facebook:
"Very unprofessional. Delayed project. Didn't pay contractors, didn't do work per contract. Took money and ran. DO NOT DO BUSINESS WITH THEM."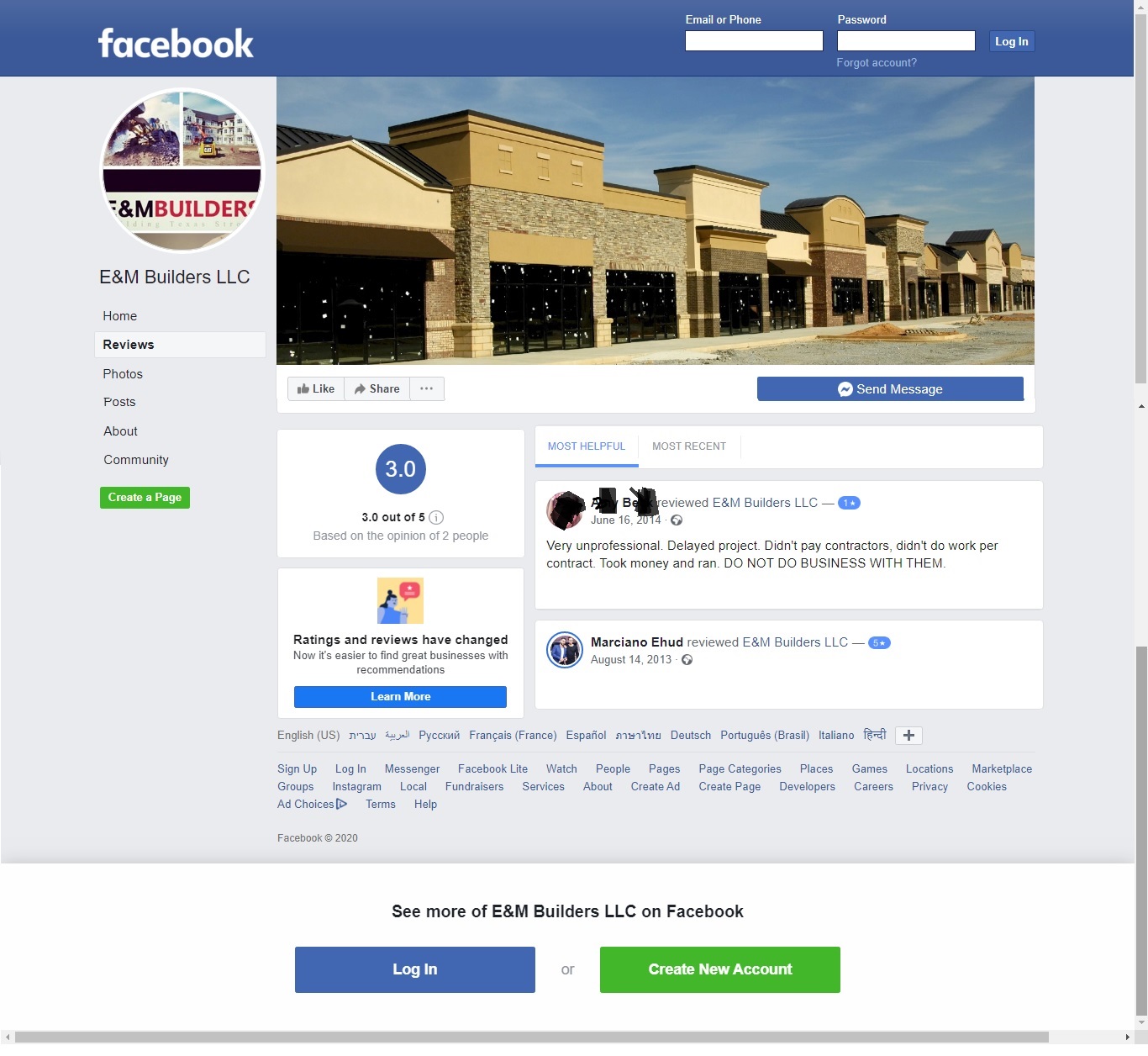 4141 Group has been operating in Houston metro area, and they pride themselves doing Bathroom Remodeling, Deck Building, Demolition, Drywall Installation, Flooring Installation, Home Additions, Home Extensions, Home Inspection, Home Remodeling, Home Restoration, Kitchen Remodeling, Laminate Flooring Installation, Tile Installation and some other home improvement tasks, but as said- we do not recommend working with them, there are many high reputation remodeling companies operating in Houston with which you can work and get great results.
-
Some brief Google searches brought up the following results, indicating of a very bad reputation by Mr. Marciano Ehud's company:
Take a look at this disturbing review that was recently added to the Better Business Bureau (BBB):
"Hi I used Ehud Marciano with |strong-|Enterprise Renovation/4141 Group LLC|-strong| to remodel three houses in Houston, TX. I ended up giving Ehud 123,099$ to remodel the three houses. All three houses were paid in full and owned outright by me. Then we used Ehud to remodel them all so we could either rent them or sell them. We ended up getting completely robbed." Read the BBB full review here
**** Latest Updates Company Rebranded and change their name ****

Company now appears as Enterprise Renovation, Still a Scam
Enterprise renovation, formerly known as 4141 remodeling still keeps on gathering horrific reviews in all platforms, particularly in Google where lots of complaints pile up. Our alert stand still even with the new name of that company or whatever name they pick up for themselves. We will keep our eyes open and listen to an ongoing flow of complains that keep coming in.
---
Need other contractors services? Plumber.