Remodeling Companies » Flooring » Laminate
Laminate
Made of synthetic material, laminate floors mimic hardwood, stone and ceramics. Laminate floors are high quality images of wood or stone covered with strong, clear plastic. Inexpensive to install and durable under heavy traffic, laminate is the perfect material for home owners wanting to achieve the same "wow" effect as natural wood or stone, but lack the high remodeling funds to do so.
Laminate services include but not limited to: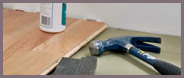 Laminate design, remodeling and construction
Laminate flooring is made from wood and melamine plastic layers fused with direct or high pressure, and held in place by a stabilizing, bottom layer. The walking surface, also known as the wear layer, is made of cellulose paper and exhibits a high quality image of pattern, wood or stone.
Available in planks, stripes, bulletin boards or tiles, laminate flooring enhance the beauty and inviting appeal of your home without hurting your budget. Although conventional laminate is glued on top of existing floor, recent advances introduce glueless and pre-glued laminate configurations that cut installation time by half. The added advantage of laminate glueless floor is that it can be removed and re-installed without damage. To avoid scrapping off the actual image, once installed laminate floors should not be refinished, sanded or stripped.
---
Need other contractors services? Plumber.