Remodeling Companies » Roofing » Tile
Tile
Durable, fire and weather resistant, tiles from clay, concrete or natural stone are commonly used to build roofs. Tile roofers will first construct structural reinforcement to support heavy roofing tiles. Although structural reinforcement increases installation costs, they are outweighed by the benefits of a stable and durable roof that lasts up to 50 years. Roof tiles are available in an array of colors and textures to suit perfectly any home style and character.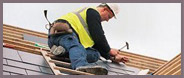 Stone roofing material are available in slate, limestone and sandstone tiles. Slate roof tiles are durable against weathering and color versatile to suit a wide array of styles. Limestone tile roofing enhances the traditional appeal of the home while effectively withstanding weather damage. Sandstone tiles are known for their acid and thermal resistant properties, giving roofs a natural glow.
---
Need other contractors services? Plumber.